INDIVIDUAL INCOME TAX RETURN PREPARATION
Preparing your income tax return can be a headache that can leave you with more questions than answers: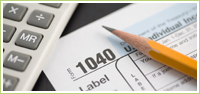 Which forms do I need?
Did I do all of the calculations correctly?
Am I going to be subject to an audit?
How do I get the refund I deserve?
Do I know all of the legitimate deductions?
How do I get my refund quickly?
How do I prepare the state tax return?
What if I moved during the year?
This list of questions can go on and on. You need expert help. At KBO Tax & Accounting Services, our tax professionals are always ready to help you. Our return preparation process is designed to ensure accuracy. We use income tax professional software, approved by the IRS which contains built-in error-checking and diagnostics. Your return is analyzed as it is transmitted electronically to our Electronic Filing Center where it is error-checked again. Then, your return is electronically filed with the IRS and the appropriate state, if applicable. Our system assures you of the fastest and most accurate processing possible.