SMALL BUSINESS INCOME TAX RETURN PREPARATION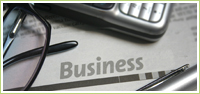 Small Business Taxes is the #1 factor that scares a lot of people from starting their own business and that also put a lot of people out of business. KBO Tax & Accounting Services highly qualified and experienced tax professionals, who understand how tax laws apply to everyone situation, are well trained to help you take advantage of tax breaks now as well as plan for the future.
If you own a small business and haven't kept up your
bookkeeping, don't worry. We can help you.
Today's tax laws can be so complicated that filing a relatively simple return can be confusing. It is just too easy to overlook deductions and credits to which you are entitled. Even if you use a computer software program there's no substitute for the assistance of an experienced tax professional.