Plan for Your Financial Future from our Tax-smart Financial adivisor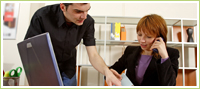 The trouble with the future is that it keeps getting closer and closer. Which means, regardless of your current age, income or goals, it's important to begin developing a plan today. At KBO, we like to look at your individual needs before anything else.
Learn about the tools we can offer to help meet your needs.

Find out what is important to you. Meet with your financial advisor to discuss your current situation and resources, along with your future goals.
Determine what is right for you. We'll analyze your information to develop solutions to help you achieve your goals.
Recommend solutions and establish a plan. Your financial advisor will present some options to you based on your risk tolerance, as well as your investment goals and objectives.
Review and refine your plan. From life changes to changes in the economy, it may be necessary to re-evaluate your plan to make sure you are still on track to achieve your goals. Your financial advisor is available at any time to review your situation.
Investment Opportunity: Retirement IRAs and retirement saving plans.
For individuals and businesses. Education Learn about your education savings options and compare different plans. Estate Plans & Trusts Access checklists, frequently asked questions, and financial services for your estate planning and trust needs. Investments Learn the basics of stocks, mutual funds, annuities, and fixed-income investments. Insurance Protect yourself with life insurance, long-term care insurance, long-term disability, and Medicare supplements. KBO financial have over 10 years experience in the following areas: Financial Planning, Investments, Tax Planning, Insurance and Mortgage. KBO financial advisor leads the process, but you ultimately make the decisions - informed decisions based on advice tailored to your own personal goals. For immediate response to your needs, please complete our contact form and one of our professional advisor will contact you within 24 hours.
require_once 'inc/magpierss/rss_fetch.inc'; $url = 'http://finance.yahoo.com/rss/usmarkets'; $url2 = 'http://www.tax-news.com/rss/tax-news.xml'; $rss = fetch_rss($url); $rsstax = fetch_rss($url2); ?>