RESOLVING CLIENTS IRS RELATED ISSUES & ALL IRS TAX MATTERS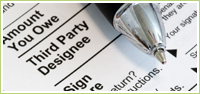 There are circumstances that cause the IRS to examine your return more closely. For example, the IRS may examine your return and request more information if your itemized deductions exceed any IRS internal guidelines, or if your business expenses or cash charitable contributions are substantial in relation to your income.
If you receive a notice from the IRS, you need to acknowledge it and respond promptly. You should consult your tax professional before sending any information to the IRS.
There are some circumstances that may also cause red flags. If a closed corporation of which you are a shareholder has had its return examined, you may also receive a notice.
Whatever may be the circumstances, KBO Tax & Accounting Services will assist you all the steps of the way. We may even represent you at an audit, without your actual attendance.